---
Susan Wirsbinski: Practice Manager
Susan, our Practice Manager and primary Veterinary Assistant, manages the treatment area, surgical area and kennel area of our hospital. Susan was born and raised in Georgia and loves to spend time at home with her wonderful animals. Susan loves her job and always wanted to be a vet. She has always been around animals; cows, horses, dogs, you name it. "When Dr. Burnett decided to hire me, I felt like this was where I was meant to be, I do love my job."

---
Terah Briggs: Front Office Manager
Terah was born in Hampton, Virginia and moved to Georgia when she was 5 years old. Being an animal lover, Terah has 3 cats: Dax, Ace, and Dansby that she fostered and brought in from the streets. She has been working at Atlanta West Veterinary Hospital since 2016 and has always had a passion for animals. Terah takes pride in what she does and loves working here. She is now one of our practice managers here at Atlanta West.

---
Angie Mintz: Veterinary Assistant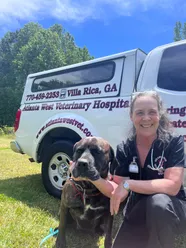 Angie grew up in Atlanta Georgia always surround by animals. She began her veterinary career in 1986. In 1989, Angie started working with Dr. Burnett at Hiram Animal Hospital, and has once again become part of this amazing team. Throughout her career Angie has worked with a wide range of animals; including Llamas, large animals, small animals, and exotics. Angie is currently pursuing an advanced education in Animal Health Care. " I didn't choose this career, it chose me. Even as a kid, I wanted to heal animals. I was always around animals because animals were always around me. I am so happy I work with a team dedicated to expert animal care, and owner support and education. It's a blessing."

---
Adam Whitten: Veterinary Technician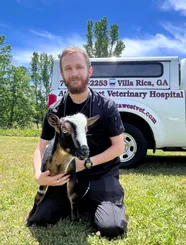 Adam, born and raised in Waco, Georgia, always had a understanding, appreciation, and love for all animals. He has been with Atlanta West Vet for a little more than a year, stating "I love it here at Atlanta West and my opportunity to help and educate clients." Adam is always spreading positivity and is sure to go out of his way to show each patient immense care and attention. Adam loves to spend time in with his dog Chief, going on hikes and camping trips together.
---
Noelle: Veterinary Assistant
---
Teresa Stamback: Veterinary Assistant & Front Office Receptionist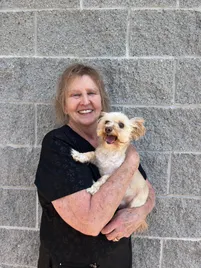 Growing up in Decatur, Georgia, Teresa spent most of her summers volunteering at an Animal Hospital in Montgomery, Alabama, where she cared for many dogs and cats. As an adult, Teresa began working as both a Office Manager and Kennel Tech for Daleville Equine Center, notably caring for multiple horses and even a baby zebra. After living in Virginia for the past 30 years, Teresa moved back to Georgia where she now lives with a home full of dogs, cats and three horses, and has finally found her home here at Atlanta West Vet, stating "I feel I have found the job I always dreamed of and love coming to work everyday. My teammates are AWESOME!"
---
Monica: Front Office Receptionist
Ingrid: Front Office Receptionist
Kayla: Front Office Receptionist
---
Richard Wirsbinski: Pharmacist
Rich was born in Fairbanks, Alaska and received his Bachelors in Business Administration from the University of North Dakota after joining the Air Force. He spent 30 years in Retail Management, and is thoroughly excited to dive into the Veterinary world and lend his expertise. Rich enjoys riding his motorcycle, woodworking, and spending time with his family, including his dogs Emma and Constance, aw well as his cat Autumn.
---
Tracy: Pharmacist Assistant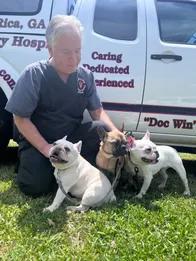 Tracy was born in Birmingham, AL and moved to Georgia in 2007. Tracey found his home at Atlanta West stating, "Working with Dr. Burnett feels like the perfect fit for me. I have experience in retail, hospital, and IV pharmacy but, being surrounded by dogs my entire life, I have feel I finally found my home in veterinary pharmacy."
---
Angela Swofford: Bookkeeper
Angela has a combined background in business management and accounting, as well as the veterinary industry. Back in 1988-1998 she worked as Dr. Burnett's office Manager and Bookkeeper in Hiram, Georgia. After owning her own bookkeeping business and twenty-five years of Office Management she was prepared to deal with the daily challenges as a Practice Manager for Atlanta West Veterinary Hospital. After 4 1/2 years of managing Atlanta West, Angela has recently semi-retired and has assumed the Accounting responsibilities for the practice. And she proudly handed over the reins of Practice Manager to Penny Jenkins in mid 2020. Angela lives in Villa Rica and enjoys ballroom dancing and spending time at her farm in Whitesburg, Ga. She is owned by her cat "Rockcat", they have been great buddies for a number of years.
---
Amy Bullington: Groomer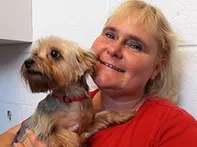 "I am a pet groomer at Atlanta West Veterinary Hospital. I have over 11 years of grooming experience in Atlanta and the West Georgia area. I love both dogs and cats. I am certified by the Professional Cat Groomers Association of America, in the care and grooming of cats.

When I am not grooming I am surrounded by my 7 dogs and 12 cats, all of which I consider my fur babies. Make an appointment today for your fur babies to be groomed!"
---
Lily: Kennel Technician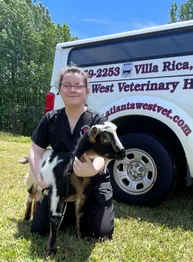 Lily, one of our experienced kennel technicians, has been with Atlanta West for the past two years and is currently pursuing Biology at the the local college for a further study in Veterinary Medicine and Pharmaceuticals. Working as a farm handing at a family ranch growing up, Lily has always dreamed of working with animals since she was a child.
---
Rodney Stamback: Kennel Technician
Rodney, one of our wonderful kennel technicians, has been here at Atlanta West Veterinary for over 2 years. Rodney said, "I think Doc Win is the best vet in the world, and I am glad that I get to work with him." Rodney has 3 dogs, Mason, Gypsy, and Suge.
---
George Bein: Kennel Technician
George was born in New York and lived most of his life in Miami, FL before moving to Georgia 18 years ago. After working for Home Depot for 25 years, he decided it was time he acted upon his long time dream of working with animals, and our hospital is the beneficiary of that decision! George has 10 cats and 2 dogs of his own and he has been a welcome presence in our kennels. 'I was blessed to become part of the Atlanta West Team several years ago and I look forward to many more!'

---
Nancy Mateo: Housekeeping
Nancy was born and raised in Miami, FL and has called Georgia home for the past 18 years. While growing up in Miami, she was fortunate enough to be able to volunteer at a wildlife refuge and work with tigers-which are her favorite animal. She currently has 7 wonderful kittens- all which were adopted from Atlanta West.