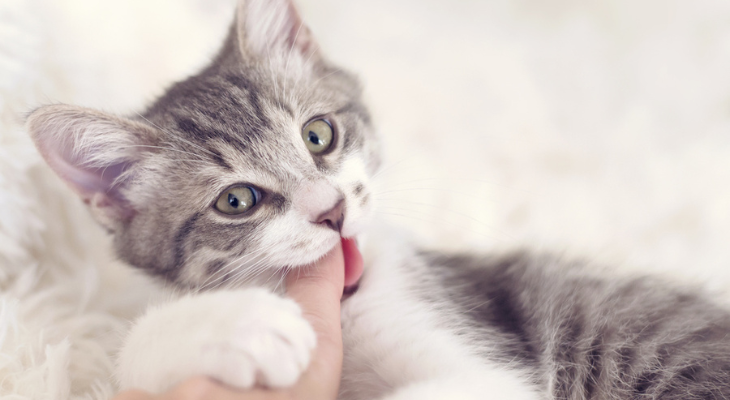 How to Keep Teething Pets Comfortable
Is your puppy or kitten using your hand as a chew toy? Your furry friend could be trying to relieve teething discomfort. Just like human babies, pets experience pain when new teeth push through their gums.
Common Teething Signs
Puppies are born without teeth. Your puppy's first set of 28 teeth, called deciduous (baby) teeth, emerge two or three weeks after your pet is born. These teeth begin to fall out when your pet is a few months old and are replaced by a set of 42 permanent teeth. Permanent teeth begin to erupt between 3 1/2 to 5 months of age, depending on breed.
Kittens have a similar teething experience. Twenty-six deciduous teeth poke through the gums during the first few weeks of life. The deciduous teeth fall out when a kitten is about 4 months old. By the time your pet is 6 months old, it will have most or all of its 30 permanent teeth.
Signs that could mean your puppy or kitten is teething include:
Biting and Chewing. Any object, whether it's a stuffed animal, your favorite pair of shoes, or your finger, becomes a chew toy when your pet is teething.
Loose Teeth on the Floor. If your pet doesn't swallow its deciduous teeth, you may see a few on the floor when teething begins.
Drooling. Your kitten or puppy may begin to drool as saliva production increases due to teething.
Changes in Eating Habits. Teething pets may find it difficult to chew and might eat less than usual.
Bloody Toys. A little blood on toys is normal and isn't a cause for concern. If you see more than a few spots of blood, let your veterinarian know.
Inflamed Gums. Gums become red, swollen, and irritated during teething.
How You Can Help Your Puppy or Kitten
These tips can make teething a safe, comfortable experience for your pet:
Offer Chew Toys. Chewing reduces pressure on the gums and offers temporary relief from teething pain. Pet supply stores and websites offer a variety of chew toys, some of which can be chilled in the refrigerator or freezer for added relief. DVM360 notes that dishcloths can become chew toys if you wet and freeze them. Make sure the toys you choose don't have loose parts that could be swallowed.
Pet Proof Your Home. When the desire to chew strikes, your pet won't care what it uses to satisfy the urge. Keep electrical cords out of reach or place them inside cord protectors to prevent potentially deadly electrical shocks. Use a trash can with a pet-proof lid and empty trash regularly to ensure that your pet doesn't accidentally eat something dangerous. Add child safety locks to cabinets to prevent pets from ingesting cleaning supplies or medications. Put away shoes and belongings promptly to prevent damage. Install edge protectors on furniture if your pet considers the corner of a cabinet or couch the perfect chew toy.
Switch to Soft Food. Dry food can irritate your pet's sensitive gums when teething. If you notice that your puppy or kitten struggles to eat dry food or doesn't eat as much as usual, it may make sense to offer soft food or moisten dry food before serving it to your pet.
Visit Your Veterinarian. Does your pet still have some baby teeth even though most of its permanent teeth have erupted? Retained baby teeth can affect the alignment of your pet's permanent teeth. Your veterinarian can remove these teeth and check for signs of problems with your pet's mouth and jaw.
What to Do About Biting
Is your hand or foot covered in bite marks made by your teething pet? It may seem cute when your tiny kitten or puppy chomps on your hand, but your opinion is bound to change when your full-grown pet sinks its sharp teeth into your skin. When your puppy or kitten begins to bite, say "ow" and remove your hand. Offer a toy as a distraction. If the behavior continues, walk away and ignore your pet for a minute or two.
Do you have concerns about your teething pet? Contact our office to share your concerns or schedule an appointment.
Sources:
DVM360: Top 5 Tips for Teething Puppies, 12/4/2015
https://www.dvm360.com/view/top-5-tips-teething-puppies
American Kennel Club: Puppy Teething and Nipping: A Survival Guide, 9/18/2023
https://www.akc.org/expert-advice/health/puppy-teething-and-nipping/
Purina: Kitten Teething Advice
https://www.purina.co.uk/articles/cats/kitten/health/kitten-teething
American Humane: Pet-Proofing Your Home
https://www.americanhumane.org/fact-sheet/pet-proofing-your-home/