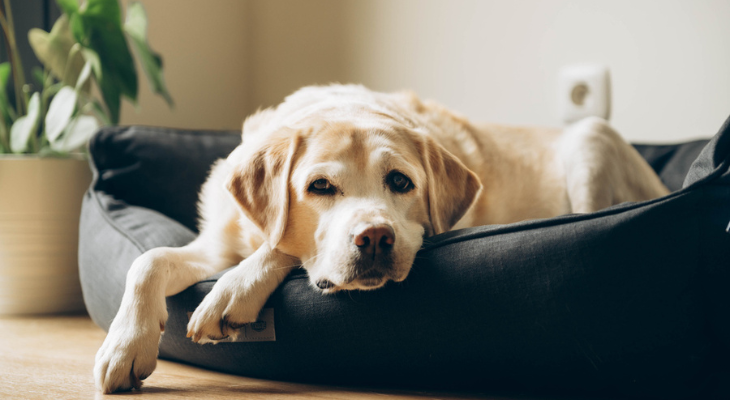 How to Celebrate National Senior Pet Month
After a long life well-lived, your older pet certainly deserves a month in its honor. Luckily, the nation agrees. In fact, November is National Senior Pet Month, a month dedicated to pampering and appreciating all senior pets. Not sure how to celebrate this important month? Try a few of these suggestions:
Treat Your Pet to a Massage. Massage eases muscle and soft tissue pain, improves blood flow, eases anxiety, and reduces stiffness. Start the massage by lightly running your hands over your pet's body. If your furry friend objects or seems to be in pain at any point during the massage, stop immediately. If your pet likes the massage, deepen the pressure slightly. Don't get too close to the bones or joints, as this can be painful. The American Kennel Club recommends starting at the head and neck area and working your way down the body.
Make Your Home Accessible. Your older pet may not use a walker or wheelchair, but chances are, it has some age-related mobility issues. If arthritis or other joint problems make jumping difficult, add a ramp or small set of stairs to your dog or cat's favorite high places. These additions make it possible to enjoy a warm nap next to the window, snuggle with you on the couch or bed, or climb your front steps without pain. Take a look around your home and search for hazards that could injure your pet, such as loose throw rugs or slippery basement steps. Get rid of hazards or modify them to eliminate danger.
Avoid Changes. Change is good, unless you're an older pet. Dementia, arthritis, failing eyesight, and other health problems may make it harder for your pet to navigate your home easily. Now is not the time to rearrange the furniture or bring your pet along on your daily runs if it's not used to running with you.
Make Bathroom Modifications. Older pets may need to go outside or visit the litter box more often than younger pets. Pets that have dementia may forget that they need to eliminate and might experience housetraining accidents. Schedule more frequent trips outside for your senior dog, especially after eating or napping. Puppy pads can prevent damage to your floors in the event that your pet can't make it outside or to the litter box in time. If your older cat has been having accidents, add litter boxes to every floor of your home, and take your pet to the litter box throughout the day. Litter boxes with low sides are helpful if your cat has stiff, painful joints.
Help with Grooming. Matted fur can be a sign that your older cat has trouble grooming itself. You can help by brushing your pet's coat every day. Long nails, a common problem in senior pets, make walking uncomfortable. Nails become long much more quickly than usual if your dog or cat isn't as active as it once was. Inspect your pets' nails every week, and cut them before they curl under and interfere with walking.
Food. Older pets may not need as much food if they've become less active. In fact, eating too much could cause weight gain and lead to obesity-related health issues, like heart disease or diabetes. Gaining weight also stresses the joints and can worsen arthritis symptoms. According to the American Animal Hospital Association, pets are overweight if they're just 10 to 20% over their ideal weight. If your pet has been gaining weight, your veterinarian may recommend a special senior diet or suggest feeding your furry friend a little less.
Provide a Comfortable Resting Place. A soft, cozy bed is a must for leisurely naps. Make sure the bed you choose provides ample room to turn around and stretch out. If your pet has arthritis or another joint condition, an orthopedic bed may be ideal. The beds reduce pressure on achy joints.
Schedule a Checkup. Signs of illness aren't always obvious in older pets. Regular checkups help your pet's veterinarian identify potential health or dental issues and offer prompt treatment. Although yearly visits are fine for younger pets, twice-yearly checkups are recommended for senior pets.
Do you have any concerns about your senior pet's health? Give our office a call to schedule an appointment.
Sources:
American Kennel Club: How to Massage Your Dog, 1/11/2019
https://www.akc.org/expert-advice/health/massage-can-help-your-dog/
American Animal Hospital Association: Pet Obesity Is an Epidemic, 2/6/2020
https://www.aaha.org/publications/newstat/articles/2020-02/pet-obesity-is-an-epidemic/
The Spruce Pets: The 11 Best Orthopedic Dog Beds of 2023, Tested and Reviewed, 10/11/2023
https://www.thesprucepets.com/best-orthopedic-dog-beds-4175287
American Veterinary Medical Association: Getting Ahead of Osteoarthritis in Pets, 1/1/2021
https://www.avma.org/javma-news/2021-01-01/getting-ahead-osteoarthritis-pets